Harrells Hardy Plants
The home of rare and unusual
Hardy Perennials
Nursery Dogs
Meet Milly, Sophy and Maisie, the dogs at Harrell's Hardy Plants. Sophy is a black and brindle Staffordshire Bull terrier and Milly and Maisie are black and tan miniature Jack Russells.
Milly, aged 8, is the senior member of the team. Both Maisie and Sophy arrived at the end of July 2009 much to Milly's disgust! The JR pair belong to me and Sophy belongs to my sister, Liz.
They are the HHP security team, protecting the garden from rabbits, the odd pheasant, mice, birds, random polythene bags, the man next door, the dustmen, the post lady, the metal collectors, any and all cats, the little white dog over the road, all of whom have been seen around the place by our sharp-eyed Sherlocks over the course of a year.
Maisie and Sophy like to play-fight together, with Sophy often racing madly round Maisie at top-speed. Milly, totally unimpressed by the sound and speed, usually referees by barking impartially at both of them.
They love to join us when we're gardening. Milly digs enthusiastically – though not always in the right place. Sophy can be counted on to dead-head most plants whether they need it or not and Maisie likes to have a ball, any ball, thrown for her endlessly, returning it faithfully to you and dropping it into the hole you've just dug to plant into, or into the mulch you were just about to spread. However, if it's raining! Hah! We're on our own! They're in the potting shed before you can say 'umbrella'.
Like us, they need a coffee break. Luckily if we lose track of time we have Milly to remind us. She appears before Liz at 11.30 – 11.45am and stares at her. She follows her from greenhouse to polytunnel and stares at her. She stands in front of the flower bed and stares at her. Why Liz? Well, because she's in charge of the BISCUITS of course!! Liz takes the hint and tells Milly she'll put the kettle on and so Milly goes off happily to the shed. Unfortunately, Milly hasn't learnt how to switch the kettle on!
You might have wondered why we ask that our visitors don't bring their dogs. Well, now you know it's not that we are so precious about our garden that we worry about dog-damage, but because we already have our own pack and they are quite territorial. If you're dog-owners, you'll understand.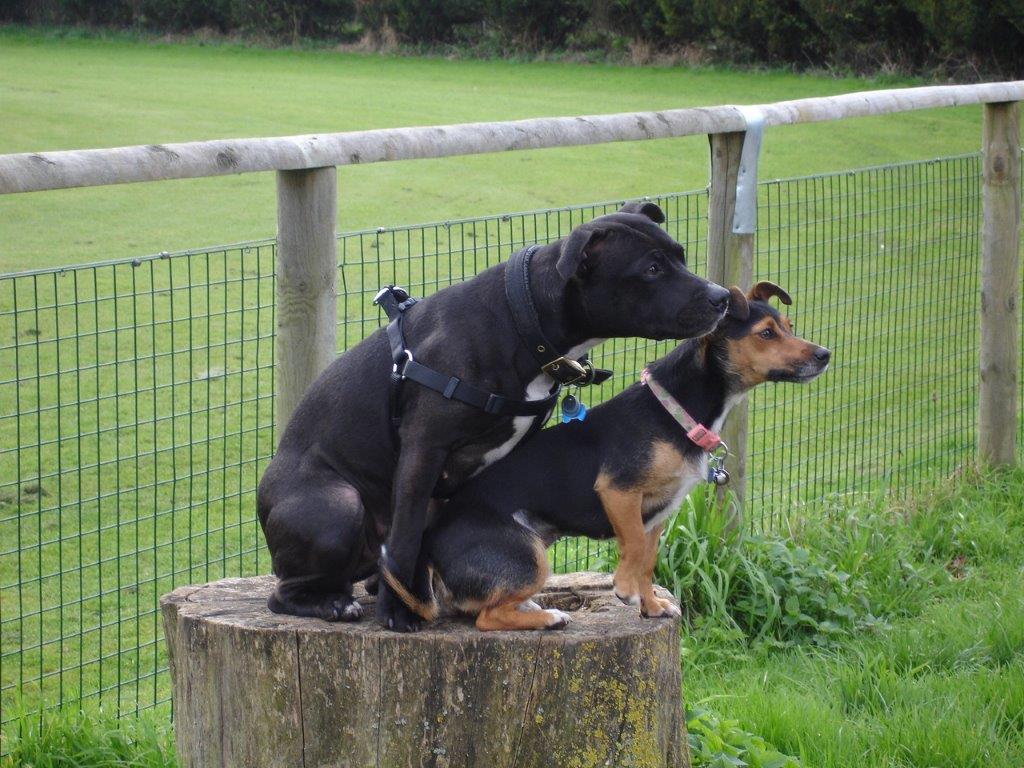 It's 11:30 , why isn't the kettle on? Sophy & Maisie on the lookout for intruders
The Strange Case of The Missing Treats
or
WHO Stole the Fishsticks!!
Last week we ran out of part of the dogs' daily routine – fishsticks. Yes, I know it sounds more like a replacement for a swearword (Oh! I've lost my handbag. FISHSTICKS!!) but, in fact, they are a wonderful, healthy, teeth-cleaning treat for dogs. Made by that great dog-food company, 'Fish4Dogs', they are dried fish-skins plaited together into a twirly stick. Sounds yummy doesn't it?
Down at Harrell's Nursery, we have a routine going at 11.30am which, as you know, involves putting the kettle on. Then, sitting in our respective chairs, first, Liz breaks up the biscuits and doles them out to Milly, Sophy and Maisie as they gather round her chair in the same order every single time; Milly to her left, Maisie in the middle and Sophy to her right. As Liz picks up her coffee mug – signifying the end of biscuit time, the three of them turn immediately to me. I then dish out the fishsticks, one each. It helps clean the biscuit off their teeth. I keep them in an air-tight tin ( well, they are fishy) and it only holds about 15 at a time, so I bring them down from my home at regular intervals to re-supply my tin.
Last week I brought down a bag of them, put them on the table and, searching for the Penstemon Cuttings List (Yes, we do work in between coffee breaks!) put them on my chair and, list in hand, went into the potting shed to find the Penstemon Stock List '15. I can't remember what we did that morning, probably shovelled wood-chip as that is what we've spent an awful lot of time doing since the beginning of November. Anyway, we were fetched up to coffee break by our shop-steward, Milly, in her usual manner.
And there, on my chair, was the bag of fishsticks – no, wait a minute, there was the bag.............. no fishsticks!!
We looked at the three angelic countenances turned up to us. Mmm.
Lifting their heads up by their chins, we sniffed their mouths for fishiness. Nothing. Mmmmm.
I held up the empty bag and shook it, demanding in a menacing way; 'Who took the fishsticks, eh?' At this point, the guilty party usually cracks and (a) slopes off or (b) drops their ears and tails or(c) looks hangdog (sorry!) and gives the game away.
All three looks at me mystified. Mmmmmmm.
Now, there's no-one else at HHP nursery who eats fishsticks – give me a slice of cake any day! There's no other dog at HHP nursery because any one, or all three, would see it off and there would have been sounds of conflict, which would have certainly brought us running.
So, Who Dunnit?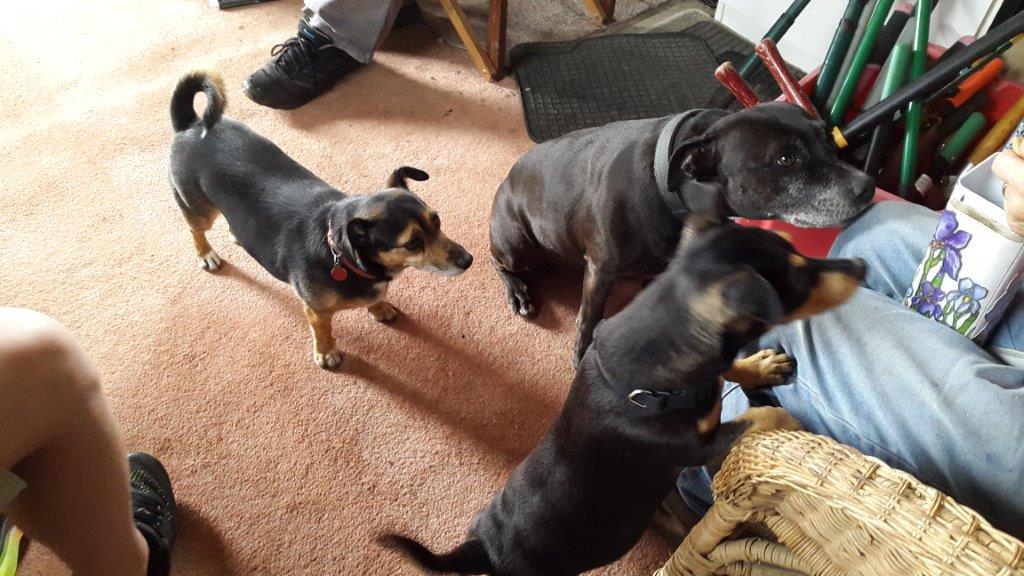 | | |
| --- | --- |
| | |
| "I see Fishsticks are back on the menu again" | "Just let her leave those on the chair!" |